LEVEL PROBES FOR FIXED PRESSURISED TANKS
Different technologies in line with your applications and needs
Level probes for fixed pressurised tanks
ATEX :
Category & zone : II 1 G
Electrical protection : Ex ia IIC T5 Ga
Ambient use temperature : -20°C to +60°C
Installation location : Zone 0, 1 or 2 GAS
TYPES OF MOUNTING :
Mounting on flange of 2″ minimum
TESTABILITY :
The probe has an electrical test device than can simulate the detection.
The probe test is performed with the tank in operation; there is no need to dismantle the probe.
SIMPLE WIRING :
A single one-pair cable (such as 01-IP-09-EG-FA) is necessary to connect a probe with one or two sensors to the processing system.
POSSIBLE CONFIGURATIONS :
Probe fitted with one level sensor (e.g. HHL)
The information is processed with a 9533 board
Probe fitted with two level sensors (e.g. HL and HHL)
The information is processed with a 9533 board
MAINTENANCE : :
As the DOCIL C 500/502 BT probes are installed in pressurised tanks, dismantling the probe for any kind of work can be very expensive (degassing). LARCO has addressed this problem and used optical fibers to offset all the electronic components into the probe's junction box. Any maintenance work on the equipment can now take place without dismantling the probe, with the tank in service.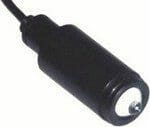 The DOCIL sensor comprises a glass cone and an electronic circuit with, among other things, an infrared luminous signal transmitter and a receiver.
The DOCIL sensor works on the optical reflection/refraction principle.
DOCIL sensor characteristics
Accuracy: 0.1 mm
Response time: 1 ms
This sensor is ATEX certified
When the glass cone is not immersed in the liquid, the optical signal is reflected entirely towards the transmitter :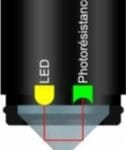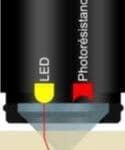 Conversely, when the cone is immersed in a liquid (hydrocarbon), the luminous signal is refracted and the receiver no longer receives the signal, thereby triggering an alarm :
Nozzle and mounting flange diameter (flange is supplied by LARCO)
Stored product
Probe length
User site